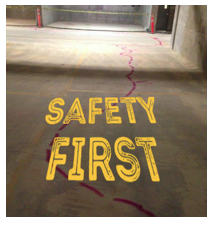 Safety, Training & Certification
Structure Scan is eRailSafe, COR and ISN certified.
Tony Brunette is member of GPR & Utility Locating programs:
Member of Concrete Sawing and Drilling Association (CSDA) - GPR Imaging Certification Program
Chair of the Manitoba Common Ground Alliance (MCGA) - Locator Training/Certification
At Structure Scan we are proud our technicians demonstrate a proven level of competency and are current on Damage Prevention practices. Structure Scan technicians receive ongoing testing and training. They are certified by:
Staking University
Locate Management - Canadian Association of Pipeline and Utility Locating Contractors
eRail Safe
Imperial Oil
Shell Canada
Canadian Railway
High-Level Security – Canadian Government facilities
An accurate analysis of the work site or excavation, by an experienced, qualified technician saves time, prevents costly mistakes and avoids safety hazards.